Brand Britain more valuable than ever
It will come as positive news for UK based businesses that 'Brand Britain' is now more valuable than ever.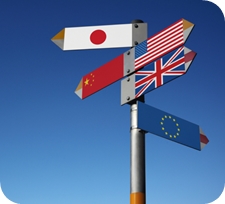 Following 8% growth Brand Britain is now worth £1.4 billion ($2.354 billion) and has become the world's 4th most valuable nation brand, having pushed Japan into 5th.
In conjunction with Rouse Partners, Brand Finance, the world leading brand valuation consultancy, has released the 2013 edition of its Nation Brands report, which ranks countries by their nation brand value.
Using an analysis more usually applied to companies, the BrandFinance® Nation Brands provides a comprehensive report on the world's leading nation brands and the impact that a country's reputation and image has on governments, investors, students and consumers.
Rouse Partners and Brand Finance are members of Praxity – the world's largest Alliance of independent accountancy firms.
The UK has benefitted from last year's high profile events, in particular the Olympics and the Diamond Jubilee, but also from the hugely successful 'GREAT Britain' campaign.
Maria Miller, Secretary of State for Culture, Media and Sport commented, "GREAT is a fantastic example of an innovative marketing campaign. Britain already has a very strong brand and GREAT leverages this to drive our international marketing efforts. It is a hugely successful initiative that brings together government departments, businesses and cultural organisations in order to drive real economic growth for this country."
But 'Yes' in 2014 threatens multi-million pound losses
However, the brand equity this successful campaign has helped develop is under threat from the 2014 Scottish independence referendum. The uncertainty surrounding the result is already hitting investor confidence.
A 'Yes' vote in September would mean the end of Britain as a political entity, forcing a profound reappraisal of national identity and rebranding of the two independent nations. Millions in nation brand value could be lost, with tangible economic consequences.
Brand Finance CEO David Haigh continued, "Scottish independence, however noble the motives of its supporters, represents a significant threat to both Scotland and England. The nation brand value built up over centuries and in the last few years so successfully fostered by the government's GREAT Britain campaign would be squandered. The combined nation brand values for an independent Scotland and England are likely to be substantially lower than that of a united UK, in the medium term at the very least. Brand Finance estimates that strong nation branding can add between 1% and 5% to GNP. In the current economic environment no sensible government can afford to ignore branding as an instrument of economic policy."
The full rankings of countries can be seen in the attachment below: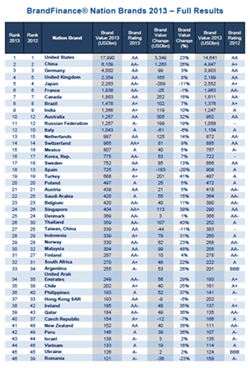 Rouse Partners is a member of the UKTI's Advisory Network and part of the Praxity AISBL alliance of international accountancy firms. See our international services section to find out how we can support businesses with global ambitions. 
---