Brexit checklist:
40 points to identify your business risk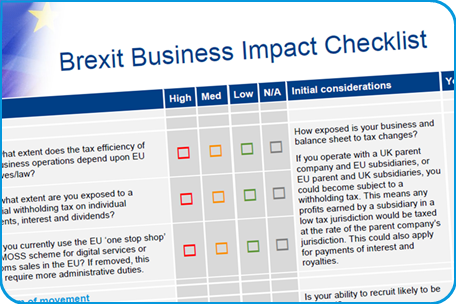 Now that the dust has settled on the EU referendum result, the attention for many businesses will inevitability turn to assessing the specific risks and making plans for the years ahead.
However, with a potential timeframe of just two years for the UK to leave the EU, this leaves businesses with no time for complacency.
To help you rate some of the risks to your business we have created a free Brexit Business Impact Checklist, which includes:
Tax, labour, supply chain and financial Brexit risks
Tips and considerations for business decision making
Downturn action points to prepare for any changing economic conditions
Our checklist is available to download in easy to use PDF and Excel formats.
---