February 2017
Now it is easy to keep up-to-date, with our monthly 'In the Spotlight' news round-up – a hand-picked summary of key tax news and industry developments. If you have any questions on how any of these affect you personally, please do not hesitate to contact us.

Theresa May sets out Brexit strategy – The Prime Minister has made clear that the UK will be leaving the EU single market but would aim to agree the "freest possible trade" with Europe. Theresa May's new role for a "global Britain" includes an end to Britain's customs union membership and full control over legislation. The PM also said she would accept a phased implementation of the Brexit agreement after 2019 and give both houses of Parliament the opportunity to vote on the deal. In all 12 priorities for Brexit negotiations were outlined. Mrs May's speech was broadly welcomed by markets and ministers in the UK and the EU, who acknowledged that, although she'd warned that a punitive offer from the EU would result in a harder departure, she had provided clarity. (Financial Times, 18/01/17)
Business leaders unite for successful Brexit – Five of Britain's biggest business groups have written an open letter pledging to work with companies from "'all corners of Britain" to take advantage of the opportunities offered by leaving the EU. The CBI, the BCC, the Institute of Directors, the FSB and EEF have all said that they are "committed to making 2017 a year of progress and success and to working with the Government to shape a better economy." The statement comes as official figures show the UK exported £247bn worth of goods in the first ten months of 2016 – up more than 3% on the same period the previous year. Analysts believe 2016 will be the first year of export growth since 2013. (Daily Express, 03/01/17)
Haldane admits disconnect between forecasts and reality – Andy Haldane, the Bank of England's chief economist, has admitted that predictions of an economic collapse for the UK if it voted to leave the EU may turn out to be "just scare stories" and that there was a "disconnect" between political warnings about Brexit and the "remarkably placid" state of the markets. His comments came as new figures on service sector performance showed Britain grew more than any other G7 economy last year, with growth accelerating in the six months after the Brexit vote. Mr Haldane conceded that criticism of economists for failing to predict the financial crisis and the impact of the Brexit vote was fair, adding that there "will need to be a reconciliation" between the disconnect between market reality and the uncertainty reported in the media. (Daily Telegraph, 06/01/17)
PM to launch "shared society" – Writing in the Telegraph, Theresa May sets out her vision for "the shared society" as she declares that the government has a duty to intervene and correct "burning injustices" in modern Britain. The PM writes: "The social and cultural unions represented by families, communities, towns, cities, counties and nations are the things that define us and make us strong. And it is the job of government to encourage and nurture these relationships and institutions where it can, and to correct the injustice and unfairness that divides us wherever it is found." In the article Mrs May adds that the Brexit vote which brought her to power was a signal that Britons want fundamental changes. "When the British people voted in the referendum last June, they did not simply vote to withdraw from the European Union; they voted to change the way our country works – and the people for whom it works – forever," she says. The Telegraph states that the article will be seen as signalling a major departure from generations of Tory thinking that the best way to help the most deprived is to deliver economic growth through the free market. It also indicates, the paper contends, that Mrs May wants to rebrand the Conservatives as the party of the working class and confine Labour to electoral irrelevance. (The Sunday Times, 08/01/17)
Foreign takeovers of UK companies fall after Brexit vote – Research has revealed the number of UK companies taken over by foreign buyers fell by 30% during the second half of 2016, compared with the same period in 2015. (Financial Times, 09/01/17)
Carney: Brexit threat has receded – Mark Carney has told MPs that the immediate risk posed by Brexit to the UK economy has declined. The Bank of England governor said that action by the BoE before and after the vote to leave the EU had reduced the danger to the country's financial stability. He added, however, that the overall level of risk was still "elevated". (Financial Times, 12/01/17)
Brexit could mean higher taxes for EU members – The EU could impose taxes on citizens of member states in order to tackle a funding shortfall in the wake of Brexit. A report commissioned by European governing bodies called for effective federal taxes to be paid directly to Brussels to fund the EU budget, with EU-wide VAT of 1% or 2%, standardised petrol taxes and a federal corporation tax among the proposals put forward. The new taxes are unlikely to affect Britain, as the earliest they could come into force is 2021. (The Daily Telegraph, 13/01/17)
You might also like our article:
"No Brexit compromise": So what does this mean for tax and UK exporters?

Grandparents missing out on pension income – More than 100,000 grandparents helping with childcare could be missing out on thousands of pounds of pension income because they don't know about a National Insurance credit scheme, according to Royal London. A Freedom of Information request submitted to HMRC by Royal London found less than 1,300 are making NI credit claims via the Specified Adult Childcare Scheme, which allows mothers who go back to work sign a form allowing a grandparent or other family member to receive NI credits for looking after the child. (Independent i, 18/01/17)
Couples miss out on marriage tax break – HMRC has launched a campaign to get more people to apply for its transferrable marriage allowance, after it emerged more than 2.9m couples across the UK are missing out on the free tax break. Since April 2015, couples in which one person pays no tax because their income is less than the personal allowance have been able to transfer £1,100 of that allowance to their tax-paying partner. However, just 1.3m of the 4.2m people HMRC calculates as eligible have taken advantage of the tax break, which is worth up to £220 a year. As part of its drive to raise awareness of the allowance, HMRC will also let couples backdate their claim to the previous tax year, and receive a payment of up to £432. (The Guardian, 09/01/17)
Savers still denied Isa tax breaks – The Sunday Telegraph reveals that nine months after the launch of the Innovative Finance Isa, the Financial Conduct Authority has yet to approve the major providers, leaving savers increasingly impatient at having to wait for their tax breaks. (The Sunday Telegraph, 29/01/17)
The tax benefits of a VCT – The Times reviews the tax benefits of Venture capital trusts (VCTs). Investing up to a maximum of £200,000 every tax year, VCT investments attract a 30% income tax credit, and for every £10,000 you invest, you get £3,000 off your tax bill. Furthermore, dividends are free from income tax, and when you sell, gains are free of CGT, as long as you have held the VCT for five years. It adds that VCTs are unlikely to fall foul of HMRC's efforts to punish tax avoidance. (The Times, 14/01/17)
One in five make tax errors – A poll by consumer group Which? has found that 19% of those who paid tax through self-assessment say they have been fined or have paid too much tax because they made an error. (Daily Mail, 04/01/17)
Connect system let loose – HMRC's Connect system has been fully deployed for the first time, gathering data from a wide range of sources to help the Revenue identify those who may have paid too little tax. HMRC was able to get information from banks and financial organisations in British Overseas Territories from September last year and from this year will gather data from 60 more countries. Information from the Land Registry, Airbnb, credit card transactions and myriad other sources is also gathered. (The Daily Telegraph, 07/01/17)
HMRC cracks down on internet sellers – HMRC has warned families who earn extra cash online that they must declare the income by the end of the month. The Revenue said it is actively pursuing those who fail to declare earnings from the so-called 'sharing economy' by January 31, amid claims many people have no idea they must pay tax on the money they make through internet businesses. HMRC is using a powerful new computer system to compile information about taxpayers from 'marketplace' websites, such as Etsy and eBay, so it can better identify nonpayers. And it is likely to be handed even greater powers in the near future to monitor people's online earnings by obtaining records from third-party payment processing firms. Any internet sellers who are found to have owed tax and failed to submit a self-assessment return by the end of this month face a £100 fine. (Daily Mail, 09/01/17)
Councils to have access to tax records – A law passing through Parliament will give town halls access to private records held by HMRC and the DWP in what has been described by campaigners as "a wholesale attack on privacy". Officials say the new powers, which are contained within the Digital Economy Bill, will help recover up to £40bn owed to the State. (Daily Mail, 03/01/17)
Savers alarmed over interest warnings – HMRC sent letters to thousands of savers over Christmas asking them to "reconsider" the amount of interest they had declared on their savings on their 2014-15 tax return. The Revenue said taxpayers were only written to if there was evidence from banks that indicated there was undeclared interest on their returns. HMRC told the Mail the letters were part of a one-off exercise and had prompted some to declare additional interest. (Daily Mail, 04/01/17)
Taxpayers warned of HMRC scam email – Taxpayers have been warned that fraudsters are targeting Britons completing their tax returns, by sending fake emails asking them to create a "government gateway account", which then requests their personal banking details. Customers who receive an email with the subject line "# Refund Payment Confirmation Number" followed by an 11-digit number, are being warned to report and erase the message immediately. (Daily Mirror, 13/01/17)
Are pensions in mortal danger? – The Treasury has dropped the topic of pensions from its savings advice for 2017 leading to fears the government is planning to water down or scrap tax relief on them as soon as the Budget this March. Former pensions minster Baroness Ros Altmann, commented: "This shows UK private pensions are in mortal danger – their huge benefits seem under threat. Short-sighted Treasury policy thinking could destroy pensions, leaving huge problems for younger people and future Governments." (The Daily Telegraph, 04/01/17)
Tax break for UK's self-employed rises in cost by nearly £2bn – The Treasury has estimated that the cost of reduced NICs for the self-employed is set to rise by nearly £2bn this year, raising concerns over the tax system's ability to keep up with changing labour trends. (Financial Times, 06/01/17)
Switzerland opens up to banking transparency – Switzerland has come into line with international transparency standards by introducing rules that ensure bank accounts details will be shared with tax authorities of other nations. Over one hundred states have signed the Multilateral Convention on Mutual Administrative Assistance in Tax Matters. Switzerland will begin sharing data in 2018. Swiss authorities made clear that the data can only be used for tax collection purposes and will not be made public. (The Independent, 04/01/17)
Italy reaches out to UK's richest – Italy has launched a new tax regime – open to all nationalities – that will exempt foreign income from Italian tax in exchange for the payment of €100,000 a year. The move will enable those who move to Italy to pay income tax normally on their Italian earnings whilst remaining exempt from income or capital gains generated abroad. This exemption can also be extended to family members at a cost of €25,000 per member." (Financial Times, 27/01/17)
Post-nup planners advised to ask their accountant – The Sunday Telegraph examines the rise of the 'post-nup' – a contract outlining exactly how a couple will divide their assets in the event of a divorce. Divorce lawyer Vanessa Lloyd Platt advises any couple considering a post-nup to consult a good accountant as well as a lawyer, as "the tax implications of dividing assets can be huge." Lawyers say the number of British clients taking out post-nups has soared in recent years, thanks in part to their popularity with celebrities such as Jay Z and Beyoncé. (The Sunday Telegraph, 15/01/17)

Digital tax plans could spell disaster – A report by MPs warns that plans to digitise the tax returns system are being rushed through and could end in "disaster". The Treasury Select Committee believes the government's 'Making Tax Digital' (MTD) policy, due to come into force in April 2018, could put companies out of business or encourage tax avoidance because of the additional costs and administrative burdens placed on the smallest businesses. Committee chairman Andrew Tyrie said that the current timetable "looks unachievable" and called for a delay until at least 2019 to allow concerns to be addressed. At present, businesses with a turnover of under £10,000 will be exempt, and MPs also recommend increasing this threshold to £83,000. The report also cast doubt over an official forecast which suggested that MTD would bring in an additional £625m for the public purse. MPs believe that in reality, the plans could result in lost revenue for HMRC because of the anger provoked among taxpayers. The FSB claims that the changes will cost the average small company an extra £2,770 a year, in addition to the £3,600 that it already spends on tax advice. In response to the report, the ICAEW called on the government to delay the project and make it voluntary, at least for the smallest businesses, while the CIOT and ATT have also backed the report's conclusions. Separately, the FT profiles one of HMRC's trial "future workplaces" – a test bed for the vast new regional centres where it plans to consolidate its operations. (Financial Times, 14/01/17)
Small business confidence rises… – A survey of its members by the FSB shows small business confidence has returned to levels last seen before June's referendum. The group's Small Business Index said small exporters in particular were enjoying a "strong rise" as a weaker pound made their goods and services more competitive overseas. (The Times, 11/01/17)
…but start-up numbers fall – Business start-ups around the UK have fall by nearly 20% in five years, according to a study by Bank of Scotland. The data shows Wales has seen the largest decline in start-ups in the UK, with a fall of 26%. England has also been hit hard, with the number of new firms down by one-fifth. But Scotland did not suffer such a sharp fall, with the number of firms getting off the ground down by just 3.1% between November 2011 and November 2016. (The Press and Journal, 11/01/17)
SMEs facing high cost burdens – FSB – Federation of Small Businesses (FSB) chairman Mike Cherry has warned that SMEs are struggling at the start of 2017 with high cost burdens accumulated from a range of policy decision over the last year. In his new year message, Mr Cherry said it wasn't just Brexit causing concern – "auto-enrolment" for workplace pensions, quarterly tax reporting and a higher minimum wage were all hitting the smallest companies. The FSB is also calling for a crackdown on late and poor payment practice. An estimated 800,000 small businesses are set to reach their auto-enrolment staging date in 2017 while the Pensions Regulator calculates that 1.46m small firms in total will need to set up pension schemes. (The Times, 02/01/17)
Productivity remains down on pre-financial crisis levels – UK productivity growth remained well below its pre-financial crisis levels in the three months following June's Brexit vote, new figures show. The Office for National Statistics said British workers are producing 15.5% less than they would have been if productivity growth had returned to its pre-crisis trend. The amount each UK worker produces rose by an annualised rate of 0.4% in the three months to September 2016 – far below its average of 2.1% for the decade before 2008, with manufacturing experiencing a particularly acute fall off – to 0.8% from a pre-2008 rate of 4.3% a year. (The Daily Telegraph, 07/01/17)
Regional SME funding running low – The independent think tank Civitas is calling for the government to pump fresh funding into responsible finance providers (RFPs), warning that over half of their funding streams, including from the government's Regional Growth Fund, are due to run out this year despite a huge increase in demand. In 2015 RFPs provided £98m to 11,440 SMEs, 86% of which had been turned down by a high street bank. (The Times, 03/01/17)
SMEs face £52bn in fines for security breaches – The Payment Card Industry Security Standards Council has warned that UK SMEs could face up to £52bn in fines for cybersecurity breaches in 2018. A survey of small businesses last year found more than 60% had experienced a cyber breach in 2016, and FSB chairman Mike Cherry has warned "the scale of threat to small businesses must not be underestimated." (The Mail on Sunday, 15/01/17)

Tax breaks for prefab builders – Sajid Javid's plans to fulfil a government pledge to build a million new homes by 2020 may include tax breaks for manufacturers of next generation prefabricated homes. Firms that use advanced so-called off-site construction technology could also be offered government land to showcase the 21st-century prefabs, the communities secretary said. (The Times, 07/01/17)
House price growth highest since March, says Halifax – House price growth has hit its highest level since March, according to the Halifax house price index, as a lack of supply propped up the market since the EU referendum. On a monthly basis, the index showed prices increased by 1.7% last month, up from 0.6% in November, with the three-month average of year-on-year house price growth hitting 6.5% last month, up from 6%. Separately, JLL has forecast a 0.5% rise in house prices nationally and a 1% increase in London. (The Daily Telegraph, 10/01/17)
Record number of first-time buyers pay stamp duty – Some 71% of first-time home buyers now pay stamp duty, as the cost of an average first property has surpassed £200,000 for the first time. According to Halifax data the number of first-time buyers hit by the home buying tax has climbed to a ten-year high. Analysis of the data by the Telegraph shows the total number of first-time buyers paying stamp duty has risen from 121,455 in 2013 to 238,382 in 2016. David Willetts, chair of housing think-tank Resolution Foundation, said: "This is further evidence of how hard it is for young people to get on the housing ladder… The time has now come to look at whether stamp duty is working." Elsewhere, the Times reports that a growing number of sellers are now offering to cover buyers' stamp duty costs following last year's regulatory changes. (The Daily Telegraph, 13/01/17)
Property transactions resilient in 2016 – Data from HMRC shows that there were 1,231,120 residential transactions last year, ahead of the number of transactions in both 2014 (1,225,970) and 2015 (1,225,970). The distribution of transactions however was skewed, as landlords bought properties before the higher rate of stamp duty on second homes came into effect at the beginning of April, creating a spike in March, the highest number of transactions made within a single month for the last ten years. (City AM, 25/01/17)
You might also like our article:
Builders targeted by scammers who dupe their clients into handing over thousands of pounds

Tax changes will push more landlords into debt – The number of buy-to-let homes in mortgage arrears has increased from 4,700 to 5,000, the first increase since records began two years ago, according to trade body the Council of Mortgage Lenders. Repossessions of buy-to-let properties also jumped from 500 to 600 between July and September 2016. The National Landlords Association says arrears are likely to rise further after April when landlords will no longer be able to claim tax relief on the interest on their mortgages. (Daily Mail, 04/01/17)
Tax changes turn landlords onto commercial properties – The number of buy-to-let investors moving to commercial property has tripled in the past three years, following the announcement of a tougher tax regime. There are now less than three months until mortgaged buy-to-let properties become subject to the stricter tax regulations, and investors are increasingly turning to shops, restaurants and offices as alternatives to residential property. These are sometimes mixed use properties with residential property or flats attached. (The Sunday Telegraph, 15/01/17)
First timers winning race for properties – Research by Countrywide suggests more than half of all first-time buyers facing competition from buy-to-let investors are winning the battle to secure a property. It follows the government's introduction of a 3% stamp duty surcharge on second homes or buy-to-let properties in April last year. Since the levy was introduced, 56% of first-time buyers who faced competition for a property from a landlord went on to buy it, the highest figure on record. Meanwhile, the Telegraph examines how large landlords could benefit from buy-to-let tax changes. It suggests professional landlords could capitalise by buying properties sold off by small "accidental landlords", who are more likely to be put off by the changes. (The Times, 28/01/17)
Buy-to-let mortgages fall – The number of buy-to-let mortgages available is falling in light of new taxes for landlords and new regulations for lenders. According to Moneyfacts, the number of loans available has fallen 5% in the past four weeks, from 1,482 to 1,408, marking the steepest decline since the banking crisis. Since January 1 lenders have been limited by new affordability regulations imposed by the Prudential Regulatory Authority, and from April this year higher-rate taxpayers will not be able to deduct their mortgage costs from their income before calculating their tax bill. (The Daily Telegraph, 10/01/17)
Convoluted tax loophole for B2L investors – Property investors are using ever more complex methods to reduce their tax liabilities. Figures from HMRC show a rise in the number of investors placing taxable gains from buy-to-let property sales in enterprise investment schemes, which can entitle you to an income tax rebate of 30% of what was put in. This should turn out to be enough to pay the 28% tax on the gains from the sale. However, the investments need to remain in place for three years and they are often risky, but losses can be used to reduce taxable or income elsewhere. When the investments are sold the original CGT liability resurfaces and needs to be paid. (The Daily Telegraph, 21/01/17)
Remove new tax on buy-to-let homes call by landlords – Landlords are calling for the Welsh Government to partially remove the 3% levy on their stamp duty when purchasing a property to rent out as it limits supply and pushes up rents. The Residential Landlords Association (RLA) wants the new Welsh Land Transaction Tax (LTT), which will replace stamp duty in Wales in 2018, to remove the levy where a landlord is adding to the housing supply. (BBC News. 11/01/17)
You might also like our article:
Stamp duty on additional properties: New online refund service

UK's manufacturing figures are fizzing – Activity in the UK's manufacturing sector has hit a two-and-a-half-year high, according to the latest Markit/CIPS purchasing managers' index, which rose to 56.1 in December from November's 53.6. "Based on its historical relationship against official manufacturing output data, the survey is signalling a quarterly pace of growth approaching 1.5%, a surprisingly robust pace given the lacklustre start to the year and the uncertainty surrounding the EU referendum," said Rob Dobson, senior economist at IHS Markit. (The Times, 04/01/17)
Fears raised over customs IT capacity – Ministers have been warned that the possible reintroduction of customs declaration requirements post-Brexit could cause major problems for HMRC's IT system. The 25-year-old Customs Handling of Import and Export Freight (Chief) system is being replaced with the Customs Declaration Service (CDS), designed to handle 100m filings a year. However, business leaders predict leaving the customs union could mean as many as 390m declarations a year will be filed by 2019. An HMRC spokesman said: "The new system will support any changes to legislation, redesigned business processes and increased volumes of transactions." (The Times, 23/01/17)
UK businesses lack export ambition – Research by the ICAEW suggests the share of UK companies selling goods and services abroad has stagnated over the past two years, with 53% of businesses exporting in 2016, unchanged from 2014. Stephen Ibbotson, the ICAEW's director of business, called for more incentives for companies to export in a post-Brexit world. (The Times, 03/01/17)

Jobs revival continues – The number of permanent jobs being sought rose for a fifth month in December, according to the Recruitment and Employment Confederation. At the same time, the number of available candidates fell, helping to push up pay and starting salaries, REC said. (The Times, 10/01/17)
BoE official expects strong jobs market in 2017 – Britain's jobless rate is likely to remain low this year, as employment remains resilient following the Brexit vote, according to a Bank of England policymaker. Michael Saunders, an external member of the Bank's Monetary Policy Committee, said stronger than expected economic growth meant the unemployment rate could well stay below 5% this year and remain close to its current 11-year low of 4.8%. However, Mr Saunders also predicted that annual pay growth would remain "comfortably below" the typical pre-crisis trend of about 4% for the foreseeable future. (The Times 14/01/17)
SMEs suffer in skills gap challenge – A survey of 1,000 SMEs by Aldermore has found over 40% of small business owners have experienced challenges in recruiting the right staff, rising to 55% in London and the South East. (The Mail on Sunday, 08/01/17)
High-earners thrive working part-time – The Telegraph examines why more high earners are embracing part-time employment, after research by Timewise revealed there are now 12% more higher-tax-bracket part-timers than there were three years ago. The research also found that of the 8.5m people working part-time in the UK, 86% choose to do so. The paper suggests this trend reflects the growing number of firms accommodating highly skilled women returning to careers after having children, and the rising number of high-powered men embracing a more "holistic" work-life balance. (The Daily Telegraph, 31/01/17)
Tsar to crack down on rogue bosses – Sir David Metcalf, a founding member of the Low Pay Commission and former chair of the Migration Advisory Committee, has been named as the first director of labour market enforcement. He will coordinate the aggregation of intelligence from HMRC's National Minimum Wage Enforcement Unit, the Gangmasters and Labour Abuse Authority (GLAA) and the Employment Agency Standards Inspectorate (EAS). Sources suggest Sir David may look at using new anti-slavery legislation to see whether the offence of aggravated exploitation, which carries a jail term of up to two years, could be applied to companies that refuse to pay workers the minimum wage. Currently, these businesses can only be named and shamed. (The Daily Telegraph, 04/01/17)
More high earners wave goodbye to nine-to-five – A report by the flexible working group Timewise reveals more than 770,000 high earners now work part-time, as employers become more open to using job shares in senior roles. The survey of 200 managers found the number of part-time staff on salaries over £40,000 has increased by 5.7% in the past year, with two in five managers saying they would consider hiring candidates for a senior role as part of a job-share. Timewise co-founder Karen Mattison said: "The dramatic increase in job shares offers us a glimpse into how jobs will be designed in the future." (The Guardian, 30/01/17)
You might also like our article:
Positive news for the recruitment sector after record-breaking year

UK tech deals hit record in 2016 – British tech deals reached a record high in 2016, according to figures compiled for the Telegraph by GP Bullhound. A total of 4,009 deals were agreed in the technology industry in 2016, up from 2,858 the previous year and 1,714 in 2014. However, the figures showed a year of two halves. GP Bullhound said 2,426 deals were completed before the June 23 referendum, more than double that of the same period a year earlier. The number of deals after the vote was 1,583, and in the fourth quarter of the year it was 710, a 28% fall on 2015. Hugh Campbell, GP Bullhound's co-founder, said that, while Brexit had been a factor in the second-half slowdown, the election of Donald Trump and wider global uncertainty had also played a role. (The Sunday Telegraph, 08/01/17)
UK shoots up corporate fraud and cybercrime rankings – Rising fraud incidents have catapulted Britain towards the summit of global corporate fraud rankings. Over the last 12 months the proportion of British businesses saying they had been affected by fraud jumped from 74% to 90% and only Colombia, with an incidence rate of 95%, was ahead of the UK in the global rankings compiled by risk consultants Kroll. The UK (92%) and Colombia (95%) also occupied second and first places respectively in relation to cybercrime. The survey found high staff turnover was the key driver of Britain's businesses being affected by fraud. (City AM, 18/01/17)
Taxing robots unlikely to take off – The Telegraph's Matthew Lynn considers the argument that a tax should be imposed on robots, in order to counteract the income that might be lost as smart new machines take on more roles in the workforce. He suggests the proposal is fundamentally flawed, as it "simply isn't true that robots will destroy jobs overall." He also notes that a tax on robots will be "a disguised tax on the owners of the machines, which will either be a company or an individual." (The Daily Telegraph, 10/01/17)
The automation of workers – The Guardian's John Harris considers the rise of workplace monitoring and looks at "people analytics" systems such as Worksnaps and BetterWorks. US-based company Humanyze is working with a high street bank and parts of the NHS. Its "sociometric" badges record employees' movements, interactions and "speaking patterns". What this all means in the context of an automated future, posits Harris, is that on the "way to being replaced by a robot, you will have to become one." (The Guardian, 21/01/17)

Small shops braced for business rates hit – The Times reports that small shops are set to be amongst the hardest hit businesses when changes to business rates take effect on April 1st. The government says the new rates are designed to "ensure fairer bills for businesses up and down the country". But while many firms in places such as Blackburn, Redcar and parts of Wales will see a cut in their rates, others across the UK face increases of more than 250%. Independent retailers in Southwold have now launched a campaign to challenge the workings behind the new rates. (The Times, 14/01/17)
The high street suffers poor December – The high street failed to rally at the end of a dismal year for retailers in a fourth poor December in a row. Like-for-like sales were down 0.1% – the fourth consecutive December with no high street growth. However, online sales enjoyed sales growth of 19% for December, up from 7.5% the previous year. (The Times, 06/01/17)
Inflation set to squeeze shoppers – Data from the ONS this week is expected to point to the sharpest rise in prices in more than two years, as the fall in the value of sterling stokes inflation. The figures are likely to show annual consumer prices inflation ran at 1.4% in December, the highest rate since August 2014. Separate ONS data is expected to show a small rise in the unemployment rate in November, to 4.9% from 4.8% the month before – the first increase since May 2015. (The Sunday Times, 15/01/17)
Airbnb leaves hotels struggling – Smaller hotels are being pushed out of business while larger ones are forced to increase prices to compensate for business lost to Airbnb, the Institute of Directors has warned. Stephen Herring, head of tax at the IoD, said the "pace of tax reform doesn't keep up with the pace of change in the new economy" and that ministers need to respond to the fact that Airbnb does not pay rates. An FT leader makes the same point, suggesting that, in the case of VAT, there is a clear case for levelling the playing field between incumbents and disrupters. Analysis by the paper found that property taxes and VAT account for up to 17% of the price of a typical London hotel room after the VAT paid on costs is reclaimed, but the average VAT on Airbnb stays is as little as 0.6% because HMRC only levies the tax on businesses that make more than £83,000 a year. The burden of high business rates and further increases in the levy "will hinder a crucial UK industry already dealing with an uncertain domestic economic outlook," FSB chairman Mike Cherry added. (Financial Times, 04/01/17)
VAT cut urged for tourism – Butlin's boss Dermot King has urged the government to cut VAT from 20% to 5% for the tourism sector to encourage Brits to holiday in the UK. (Independent i, 03/01/17)
Hospitality Sector Report 2017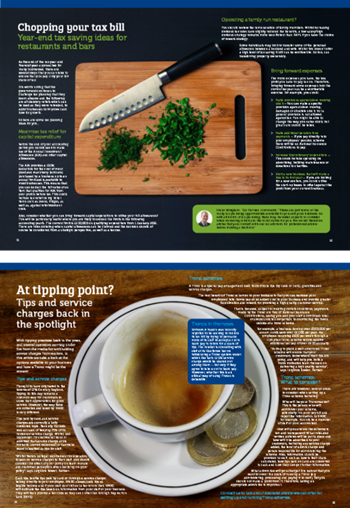 You might also like to download our latest Hospitality Sector Report 2017
Covering:
2017: Our sector outlook and trends to watch our for
Brexit: A closer look at the impacts to those in hospitality
Chopping your tax bill: Year-end tax saving ideas for restaurants and bars
Business rates revaluations: Commercial property rates shake-up on the way
Finding a new site: What to look out for?
---