Resourcing for RTI – a real time for change?
There has been much said about the forthcoming move to real time information for all employers in the UK. You can find our introduction to RTI and advice here.
One particular area I wanted to explore is whether the Government's announcement that 'Real Time Information (RTI) will improve the operation of Pay As You Earn (PAYE) by making the system easier for employers and HMRC to Administer…' (November 2011), actually resonates with businesses, or whether this broad brush statement is in fact a myth.
What's going to happen?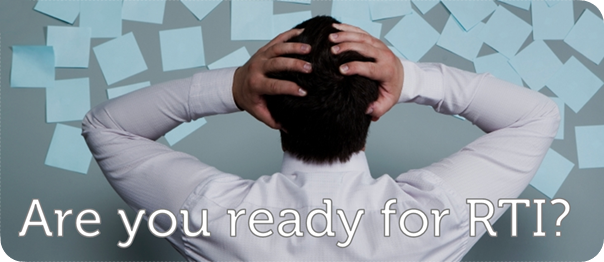 The year-end routine around 19 May, 2013 will disappear – hooray! What replaces it? The new year-end routine around 19 April 2013 – boo! Has a month's work disappeared?
1. Year-end and employee changes routines
My initial reaction was to welcome news that the P14 and P35 year-end routine will be abolished, meaning less paperwork! That is however until you consider that they were already electronic, therefore meaning the time saving is negligible and in addition the printing and distributing P60s is a simple task.
The P46 and P45 will also disappear, however the employer will still need P46 information from the employee (probably on paper, with a signature, or by email), and the data will still be used to set up a new employee record. Yes, the P45 came back from the dead in the middle of the reform process with its data being e-filed as part of the RTI process and still given to the employee who leaves (on paper). So the year-end and employee changes routines remain.
2. Pay day routine
Once the Employee Alignment Submission (EAS) or equivalent exercise has been cleared, to ensure that the employer's software and HMRC's software are both talking about the same employees, the new rules require a full payment submission (FPS) 'on or before' the date of every payment of earnings.
Conclusion
So my conclusion on whether the system is becoming easier for employers is quite clear. Unfortunately, with RTI we will now have multiple routines rather than one year-end routine! Now for some facts on RTI.
RTI the facts
There are more than 1.2m private-sector entities with four or fewer employees, according to the Inter-Departmental Business Register, many of which will have to cease submitting quarterly PAYE and NIC payments and annual returns, replacing that with weekly (or daily) Full Payment Submission's (FPSs).
Significantly more employers will have to go down the route of increasing their own costs, by employing staff or subcontracting to an agent to complete their RTI filing. This is increased if consideration is given to the numerous domestic employers who pay their nanny or housekeeper each week in cash and the size of the RTI challenge becomes clear.
2. RTI, what are your options?
| "I want to continue using our own in-house payroll software" | "I want to use our existing payroll software package" | "I don't want to make these changes myself" |
| --- | --- | --- |
| If you have developed your own payroll software, it will have to be upgraded to collect any additional information you might need, and to send HMRC the necessary payroll reports.If you pay your employees using Bacs, it will have to add the extra information required in the Bacs payment instruction so that HMRC can match the payments they receive with the payroll data you report. | If you use a commercial payroll software package, then speak to your payroll software developer or provider to ensure that your software will be suitable – and if you pay your employees by Bacs, that the necessary changes will be made to your Bacs payments instructions.If this is not possible – perhaps because the package is too old, or the software vendor has no plans to support real time reporting – consider replacing it with a newer commercial package, or HMRC's free Basic PAYE Tools package – but this can only be used to report your payroll information if you have a maximum of nine employees at any one time. | If you do not want to upgrade or purchase new software capable of handling the RTI requirements, or don't have the internal resources, have you considered outsourcing to a specialist payroll provider?At Rouse Partners our payroll solutions have been designed with small to medium sized businesses in mind. Whether it is the first time you are considering outsourcing your payroll, or you are looking to reduce your admin we can help. |
There will clearly be transitional costs, however there will also be extra transactional costs, and it seems HMRC has grossly underestimated those. It seems likely that the impact of telescoping pay timetables to ensure that the payroll data is available to comply with the 'on or before' deadline has been overlooked completely.
Rouse provide and operate our payroll bureau, whose staff will need to do extra work within the existing HMRC timetable. The professional bodies have been telling HMRC from the earliest days of the consultation that there are circumstances when it will be impossible to comply with the 'on or before' rule. HMRC's reaction has been slow, but we do at least now have acknowledgement and some relaxation of the difficult cases. There is a seven day window, but only if you qualify.
Qualification
If payment is being made to employees for work done on the day, non-electronically, at the time when, or a place where, it would be impractical for the payment to be reported on or before payment. Therefore, where the employer cannot know how much the payment will be in time to report the information in advance of the payment being made, you can report at the time of the next RTI submission within seven days at the latest.
This is helpful to some employers and their payroll providers (for example, a contractor paying regular casual staff with no fixed rota), but this fails to solve the whole problem. Payment for domestic staff electronically (after establishing how many hours they worked) by calling the bank to arrange payment will not qualify for the relaxation, so this will not be able to comply.
Some employers will not be able to comply with the new rules. Some bureaux will not be able to comply. There is a fundamental flaw with a law that requires the unobtainable. Delaying the imposition of penalties by 12 months is little help when there is no solution currently on the table.
Stormy seas ahead
Some employers will inevitably buy some RTI-compliant software (and, it is to be hoped, some training); others will shop around and buy the service from a provider. Some bureaux have already decided that they will be charging for each FPS, others are going for a flat £X a month extra, but everyone will have to cover their costs in some way. Employers who are used to paying for a weekly payroll service might not notice too much difference, the other extreme are those who have been paying cash and asking the bureau to prepare a quarterly payroll in the past.
RTI, viewed by Rouse is an opportunity to assist our clients to overcome the concerns they could have, especially if others are considering withdrawing from payroll services and the extra potential for penalties if the tight deadlines are not met!
Please contact us for further information.
---