Real Time Information (RTI)
Real Time Information (RTI) is one of the biggest changes to PAYE since its introduction in 1940. It was introduced on 06 April 2013 and by October 2013 it was mandatory for all employers to process PAYE data using the RTI system.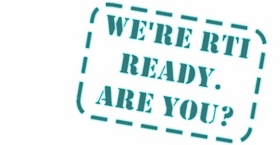 All employers were expected to start making RTI submissions from April 2013 (and not October 2013) with the exception of certain large employers with more than 5000 employees.
Is your payroll ready to comply with the new RTI requirements?
---
What is Real Time Information (RTI)?
RTI was a new system introduced by HMRC to improve the operation of Pay as You Earn (PAYE). Under the new RTI system, employers are required to send data about PAYE, NIC and student loans every time they pay their employees.
RTI:
Removes the need for the end of year return (P35 and P14)
Removes the employee starting (P45/P46) and leaving (P45) online submission process
Makes PAYE more accurate for individuals, over time reducing the number of under and over payments of employers PAYE liability during the tax year
Enables HMRC to pursue late payments of PAYE more effectively
Supports the payment of Universal Credits
Reduces Tax Credits error and fraud
Employers and pension providers must send this information to HMRC online for all payments made to their employees including those paid below the National Insurance Lower Earnings Limit.
Why was RTI being introduced?
Under the previous PAYE system employers told HMRC what deductions they had made from employees pay after the end of the tax year. Only then were HMRC able to review whether the correct deductions had been made under PAYE.
With RTI, HMRC receives information when, or before payments are made and is more able to ensure the correct deductions are made from pay.
There is a list of over 100 items of data to be reported. However, in reality, the number of items that an employer will need to report for the average employee is approximately 20 to 30.
How does RTI affect my business?
Instead of sending information once a year at Payroll Year End, you now need to submit information electronically to HMRC for PAYE, NIC and student loans etc. every time you pay your employees. You still need to supply employees with a P60 at the end of the tax year.
Real Time Information late payment penalties
HMRC will introduce further interest and penalties for the late submission of PAYE RTI returns and for late payment of PAYE liabilities. Find out more about PAYE penalties.
Read our top tips for getting ready for RTI >>
We can help
We can ensure that our payroll clients have everything they need to stay compliant and we will support them through the transition. However, for many businesses with payroll systems in-house these new requirements may be an administrative burden with transitional costs to introduce a compliant system. This particularly applies to those with fewer than 50 staff and those without a dedicated payroll manager and payroll software.
With changing legislation, numerous deadlines throughout the year and the administrational time required, is it time that you considered outsourcing your payroll? We offer a flexible and cost effective payroll bureau service that will ensure that you comply with the RTI changes being made.
Find out more about why you should choose our payroll service or contact our Payroll Team to discuss your payroll and how we can help you meet your RTI obligations.
---
This information has been produced by Rouse Partners LLP for general interest. No responsibility for loss occasioned to any person acting or refraining from action as a result of this information is accepted by Rouse Partners LLP. In all cases appropriate advice should be sought before making a decision.