Audit and assurance services
An audit should deliver more than a statutory appraisal of your business; it should also be your bedrock for growth and achieving your future objectives.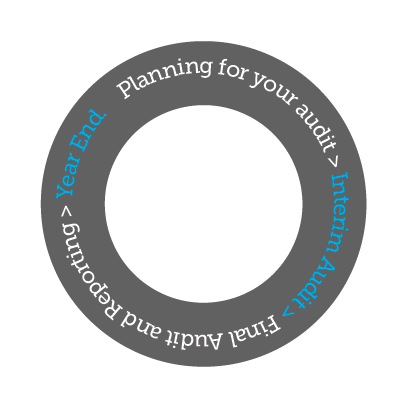 Our audit process has been developed through many years of experience and is key to adding maximum value and assurance for your business.
We will bring together a dedicated team with significant financial and commercial knowledge, to assess your business and resolve issues not just on audit completion when it is too late, but throughout the year as they emerge.
Click on the diagram to the right for details of each stage.
Seamless, pain-free, easy to manage;
An audit doesn't have to be a disruption to your business. We will work with and around you to ensure it takes up minimal management and staff time or hassle. With a consistent in-house team who understands your individual circumstances, no time will be wasted in getting started.
We also offer excellent value for money and clear pricing, so you are fully aware of cost before your work is started.
See more about our audit services
Contact us for a free, no obligation quotation and consultation to discuss how you could benefit from our audit services.