With flavours including mustard, orange peel and a seasonal spruce Christmas tree flavour, you would be forgiven for not guessing our interviewee is a chocolate maker. But then again, this is no ordinary chocolate, as we soon found out.
Fifth Dimension Chocolates are our latest new start-up client and we had the pleasure of catching up with owner and head Chocolatier, Russell Pullan, to talk innovation, challenges for new start-ups and to find out more about their range of hand-made chocolates.

The first question we wanted to understand was, how had Russell arrived at the point of setting up his own chocolate business?
Russell commented, "I always wanted to be my own boss. I guess it was the true entrepreneur in me and the prospect of independence, freedom to make decisions and doing something that truly inspired me."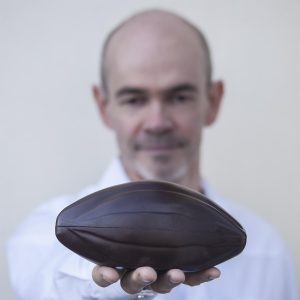 Having spent 20 years in the media industry, working 24 hour shift patterns, Russell knew that this perhaps wasn't the long term career for him. He managed to combine his busy working schedule with a passion for making chocolate for friends at Christmas and celebrations throughout the year.
The feedback was great, and demand from his friends quickly spread. "The 'eureka moment' for me came when I was reading a book about chocolate, and it just hit me, I was going to turn my hobby into my career. I finally saw there was a market not just for great quality chocolate, but for a new taste experience", said Russell.
He has certainly achieved his goal in offering a taste experience, with one chocolate critic at www.chocolatereviews.co.uk describing his chocolates as full of flavour and utterly delightful.
"I developed the name of my business, Fifth Dimension Chocolates, on the basis that I wanted to create top quality chocolate that evokes memory and experience. They would appeal to all 4 senses; taste, smell, look and feel, with the 5th being our product, the 5th Dimension! Some are flavours you may expect, others may be a surprise, but each are all part of a taste adventure that I want to share with everyone."
Innovation
Innovation and new product development plays a key part in the business and we were keen to find out how Russell develops new ideas.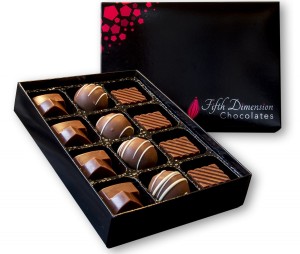 "I always keep a notepad with me wherever I go, and sometimes I will be in a restaurant or out shopping and see a food and think, that might work with chocolate! There are certain types of foods that work well with certain types of chocolates, so sometimes I can be right. I have to admit though, there have been some that haven't worked, such as a curry plant flavoured chocolate. It is a trial and error process but I guess the same goes for new product development in many industries."
"I always test my ideas with the public and attending markets, food shows and exhibitions has been a great way of testing new products and getting feedback. I do also test with my friends but they don't tend to be as harsh, and I would rather get honest feedback so I know the ones we go with are going to sell well."
"I have also started to use social media to ask the public for their ideas for chocolate flavours. This has been a great way to get interaction and a free source of market research, they also feel they have made a contribution to the business and it gives people a sense of ownership I suppose."

Dreaming of a white chocolate Christmas
Russell has recently developed a Christmas range which includes Champagne Truffles, Hazelnut with Cinnamon and a Spruce Christmas tree flavoured chocolate and we were keen to find out how this came about.
"I was in Iceland and I tasted a Spruce flavoured butter which was really tasty, it certainly got my attention. I thought it could work with chocolate so gave it a go and the results have been great. One of my friends commented it was like Christmas in her mouth!" says Russell.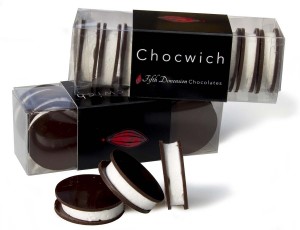 We were also keen to ask him about his mustard flavoured chocolate. Russell laughs, "This is actually one of my favourites because you might not expect it to work, but it just does. People assume that you use a whole teaspoon of mustard, but really we use just enough to give it the right flavour. Another one of my favourites is the Chocwich, which is basically a chocolate that thinks it is a sandwich!"
Article update: December 2016
5D Chocolates collects industry awards
Our original interview with Fifth Dimension Chocolates, took place in December 2013. We are since delighted to update this article with news that the business has since gained widespread industry acclaim and won several awards across their product range. They have also been named as one of 20 entrepreneurs from across the UK to become a Small Business Saturday Champion.



Above: Awards won by Fifth Dimension Chocolates. Below top (left to right): Russell Pullan with MP Chuka Umunna and at Number 10.



Advice for other budding entrepreneurs
So what advice would Russell give to other start-ups and those thinking of going it alone? "Don't be afraid, but be prepared for hard work", says Russell.
Seek the right advice
"My biggest challenge was learning about business, as my passion was making chocolate. I knew there were certain things I needed to do to get off the ground, but it is really difficult to know everything that needs to be done, such as finance, business plans and industry regulations, when you haven't been through the process before. Therefore, I would definitely advise new business owners to seek advice from a trusted source, whether that be a professional advisor or someone who has been there and done it."
Know what makes you different
Russell also says that new start-ups should focus on what makes them unique. "The two key differentiators for us is that unlike many chocolate producers we use single origin chocolate. Just like wine, chocolate regions have their own distinct taste and characteristics. We don't mix these up, we select the region best suited to bring the required flavour for each chocolate, whether that be Ecuadorian, Grenadian or Madagascan among many others and we tested suppliers of each type to ensure the highest quality. The other unique feature of our chocolate is our flavours, and we have a mix of traditional, as well as unusual flavours. We don't want to be just a novelty purchase chocolate, but it is the more unusual flavours that seem to be getting noticed most at the moment."
Get social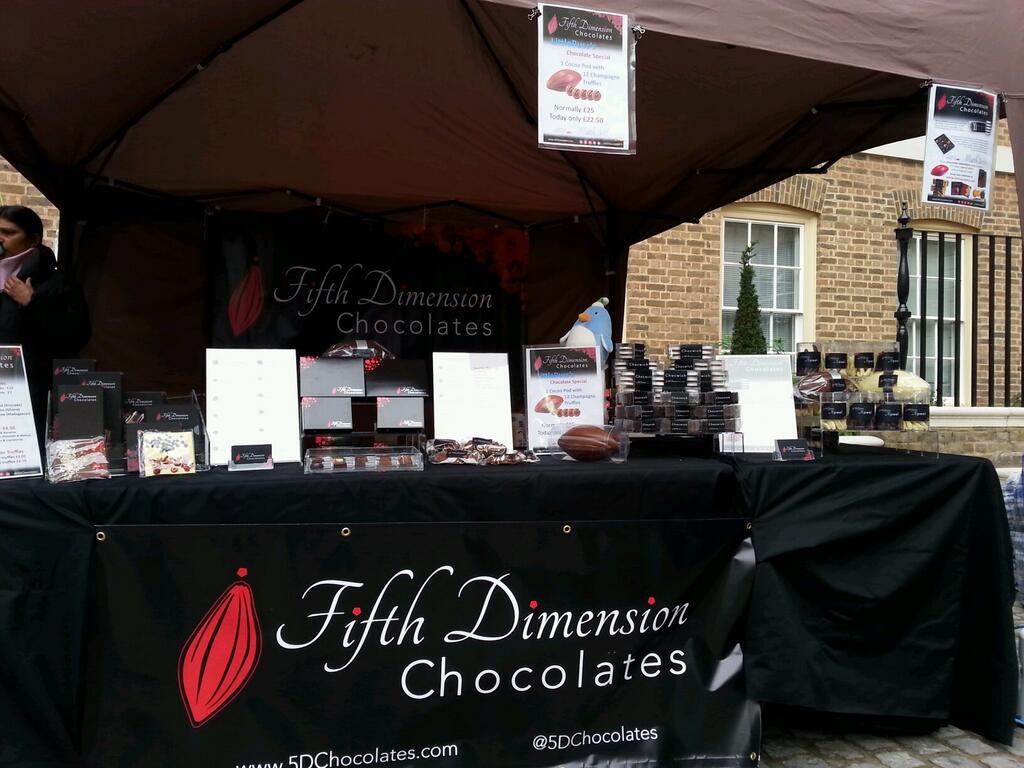 On the marketing side Russell also has some advice for budding entrepreneurs. "Using social media we have quickly been able to reach new potential customers. We recently ran a competition to retweet our message, with the prize of a box of chocolates for one lucky follower. The response was great, and in a day we had over 400 new followers, all for the cost of a box of chocolates." We also gained sales via our website when a well-known chef made positive comments on our products. Social media is a great way to market our type of product as people trust the recommendations made by friends, but it has meant that I have had to learn new skills."
Russell attends Enterprise Nation free seminars where he has learnt new skills to help him harness the power of social media and other marketing techniques. "Attending seminars is great and I am attending 1-2 per week because I get to meet others in my position and also professionals who can impart valuable advice."
In the long term Russell is looking to build a sustainable business, but admits he is 'a bit of a perfectionist', so recognition within the industry is also high on his list. He is currently planning ahead for forthcoming seasonal celebrations and is aiming to target corporate markets where his chocolates can be personalised and given to their clientele.
You can find out more about Fifth Dimension Chocolates and purchase their chocolates at www.5dchocolates.com, or keep up with their latest developments on twitter @5DChocolates
We would like to thank Russell for sharing his story with us and wish him continued success. If you have an interesting story about your business that you would like to share, please contact us to discuss being featured in our next client article.