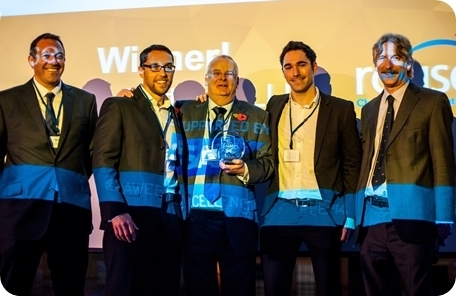 We are very proud to have been named 'Large practice of the year' in the Practice Excellence Programme 2014.
The AccountingWEB Practice Excellence Programme is a national contest where customer satisfaction, service levels and innovation of firms across the country is measured through a client survey and scrutinised by an expert judging panel. We were entered into the large practice category for firms with 8 or more Partners.
This year the competition standard was higher than ever with AccountingWEB conducting over 3,500 client surveys to determine the top firms.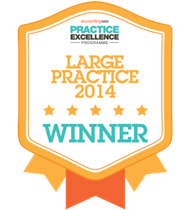 The judges commented, "This firm's enthusiastic vision and approach to reaching its goal of becoming the "pre-eminent, independent firm serving SMEs and high net worth individuals" in its region carried it through to the shortlist." Judges particularly liked the face-to-face meetings with clients, which is "critical" in today's world, according to PEA judge Ric Payne.
Managing Partner, Neil Relph commented, "We always like to think that we go the extra mile to look after clients, but it is very pleasing to have this confirmed by this award. Our team are incredibly proud of this achievement and for clients it is a reassurance that we strive to go beyond what is expected; to provide a memorable experience and play a part in their success."
This was the third year of taking part in the awards. We were ranked in the top 3 in 2013 and ranked in the top 10 in 2012.
What our clients said…
Some of the fantastic comments provided by our clients during the Practice Excellence Programme 2014 survey is listed below:
"I find the whole Rouse team very helpful and a pleasure to work with. I believe they understand my business and are working towards its success."
"Rouse has acted as our auditor for the last 3 years and has also provided valuable tax advice. The team at Rouse have surpassed our expectations and have provided excellent service in a professional manner. Their understanding of our business, flexibility, diligence, extensive expertise and personal service has enabled an excellent working relationship to be developed. I would not hesitate to recommend the team at Rouse."
"Although I manage just a small company, I feel as though my business is just as important to Rouse as a large multi-national corporation. The service is second to none and all at a reasonable monthly fee. I have complete trust in Majid and his team."
"My relatively small business does not receive much organisational attention from me but its organisational needs are heavily subsidised and met by the team at Rouse Partners. Their friendly, proactive and personal attention is also greatly appreciated."
"Again, I repeat the same answer I provided to the previous question. They are highly professional at all times, in business and also for my personal tax requirements, and are very responsive to any accounting related requests I throw at them. Rouse Partners have been handling our business accounting requirements for over 12 years, and personally for over 20 years."
"Being a small company we need accountants who can provide a comprehensive (one stop shop), easy to use and responsive service at a reasonable price. Rouse Partners provides this as well as taking an interest in our company and what we are trying to achieve. As a result, over the last year, they have been able to provide services to help restructure our business and support us seamlessly in implementing a new business model."
"The Tax advice provided by Oscar Wingham has proved to be helpful and up to date having regard to all of the complex regulation which evolves almost on a daily basis. He is proactive, and advises in a professional manner and treats the client as an equal professional when on occasion he (the client) lacks the required knowledge and vision. All advice is tailored to the instruction and client need. Should there be more such professionals, life would be an awful lot easier."
"Rouse have always been a great help in the planning & structuring of my personal & business affairs."
"Rouse are a firm with an excellent reputation and are very competent."
"Most helpful and efficient."
"Very helpful and knows what kind of services I require. Good communication and useful advice."
"I have always felt confident that my Tax Affairs have been dealt with efficiently and unlikely to result in any dispute with HMRC. There have been occasions when Rouse have corrected HMRC's assessment of my tax liability."
"I have used Rouse Partners since setting up my company in 1988. The service has always been efficient, whilst keeping a personal interest in both the company and my own needs. Excellent advice has been given over the years allowing my company to continue successfully."
"Excellent insight into our business needs backed up by flexibility and responsiveness."
"Not only very knowledgeable but also very attentive to all the minutiae of the documentation that our business has to complete from time to time."
"Rouse understand our position as a registered charity and are able to supply a comprehensive auditing and support service whilst striving to keep the cost down."
"We have been delighted with the services provided by Rouse Partners for a number of years now and never felt the need to look elsewhere. We have known Leighton Bower both professionally and personally for over a decade and totally respect his advice and recommendations when dealing with our business and personal affairs."
"I have been impressed by the way Glen has taken on my bit of a ramshackle accounting system and has been producing accurate and professional accounts since. He is always approachable and prompt in his responses and, very important to me who knows nothing about accounting, he has the patience to always give cogent answers to my questions at a level I can understand, even though sometimes they must seem quite obvious to him! Overall I am very satisfied with the service I have been receiving from Glen in particular and from Rouse in general."
"I have not used Rouse for very long but they have proved to be very competent and helpful and easy to deal with."
"I have found everyone at Rouse Partners to be extremely helpful – dealing with my queries and questions both in a timely and professional manner. I regularly contact both our accountant and his team, and also the payroll bureau and have also received excellent service."
"From the reception area to the top everyone is willing to assist and help."
"My needs are simple but not too simple for my accountant to give them her full attention."
"Rouse are always friendly and helpful. Ready to go the extra mile to understand our slightly unusual set up."
"We have worked with Rouse for many years and will continue to do so going forward as we receive excellent business planning and taxation advice from our dedicated partner, ably supported by a flexible and knowledgeable staff for other activities such as audit, and all at a competitive price for the quality of service provided."
"Knowledgeable and professional to deal with."
"Personal care, interest and attention to both personal and business affairs and reliability."
View more posts by category











---