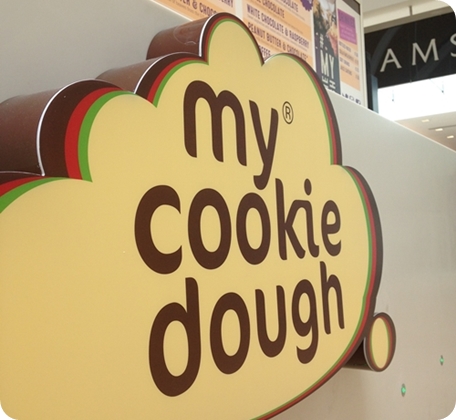 Having launched less than a year ago, and having already scooped a national retail award for its innovative product range and retail experience, our client My Cookie Dough seems to have (pardon the pun), all the ingredients for a successful future.
In this client focus interview we spoke to Air Dvareckas, Director at My Cookie Dough to find out what makes a great start-up, how innovation and technology is shaping the future of retail and how he plans on taking the brand from one store to an international scale.
Developing the concept
We start at the very beginning with the 'light bulb' moment, as Air describes it. During a social meeting with two of his university friends, their chance combination of his psychology degree and their food science degrees, led to them exploring an idea that they immediately knew had potential.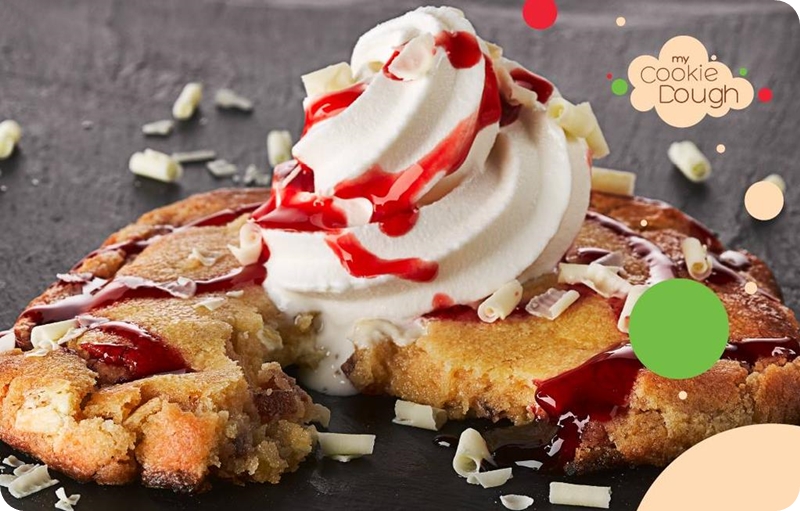 "The Cookie Dough concept was born", says Air, who with his counterparts, envisaged a unique range of desserts, led by cookie dough which would be baked freshly on site and served warm with ice cream.
In the weeks that followed they began putting plans in place to take the ideas from the drawing board, to market. Air's psychology background helped in shaping the brand and product perception, whilst his colleagues formalised the product itself. The next step was meeting with major UK food manufacturers and through trial and error and market research they were able to perfect the ingredients and production process.
The My Cookie Dough brand and customer experience is all about creating "one moment of temporary escape", says Air. "Put simply – there is no such product on the market. My Cookie Dough are not cookies. They are made from the same ingredients but with a completely different taste, texture and appearance", he adds.
Technology and innovation
Completing the brand is a unique and innovative shopping experience. Gone are counters which Air believes signal a 'transactional customer-business relationship', and in their place an open-plan environment. "We wanted to create user interaction between customers and staff, so they see each other as people. This is a trend which is becoming popular, with larger stores such as Apple, but not yet for food service businesses. So we wanted to lead the trend."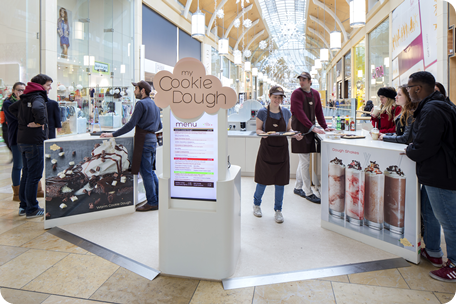 A fingerprint scanning loyalty programme, though difficult to put in place and with a few initial teething issues that were ironed out, proved popular with customers. "It addresses the problem where people have too many store cards to carry around. The finger print scanner saves them ever missing out on loyalty points", says Air.
One other area where the business is taking advantage of technology is their accounting system.
Using QuickBooks Online, My Cookie Dough have integrated their point of sale transactions directly into their accounting system. This means that real-time information is available from any location 24 hours a day.
Air comments, "It simplifies business. All the directors have access to information at the same time, from any location. This gives us the ability to make decisions on what is happening, and this will become more prevalent as the business grows to multiple sites. Rouse can also access the information and talk to me about performance and cash flow analysis, so the conversations we have tend to be more forward-focused using this information."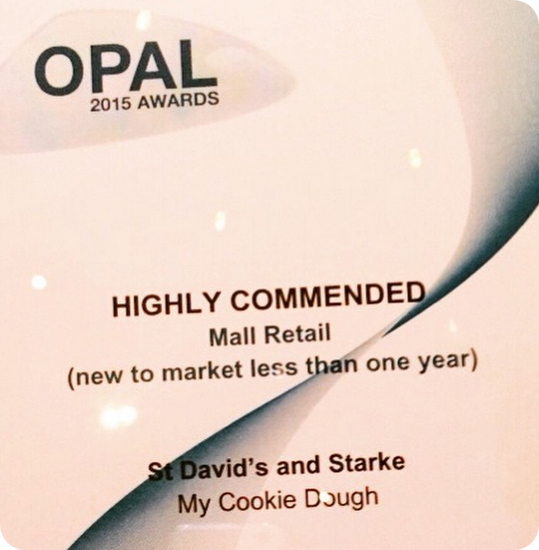 Based on the retail experience and innovation that My Cookie Dough had implemented, they were recognised and highly commended in the Opal awards category for retail newcomers (less than one year). The awards are run by the British Council of Shopping Centres and aim to showcase the best retail experiences across the UK.
Air commented, "It was remarkable for My Cookie Dough to achieve such early recognition in this prestigious retail award. It says to us that we are doing the right thing, and to be listed amongst some of the most successful and high profile retail stores in the UK is a great feeling."
Advice for budding entrepreneurs
We were keen to ask Air if he had any advice for others embarking on their own new start-ups and he had some helpful tips.
"Make sure that you are working as a team, it is impossible for one person to take on all of the responsibility and everyone has good ideas that need to be heard. You have to work together as a team and to rely on one another to build a good working relationship."
With new and extended product lines now available we were also keen to ask Air how he collects feedback from customers to inform the decision making process.
"As well as traditional market research, the three business owners have each spent time working first-hand in the store. With the open plan layout, customers are more willing to have conversations where they don't feel they are being pestered for answers, and the information you can find can be invaluable."
The feedback from which showed an unexpected group of customers. "We thought that the store would be popular with young adults. But what surprised us from the feedback was that we were very popular with body-builders and fitness enthusiasts. From speaking with them we found that My Cookie Dough is a favourite place for them on their 'cheat day', a day off exercising when they like to enjoy a treat."
Air's comments really support the idea that talking to customers, understanding their buying criteria and using this feedback to inform decision making can help businesses react to and find new opportunities.
How Rouse are assisting?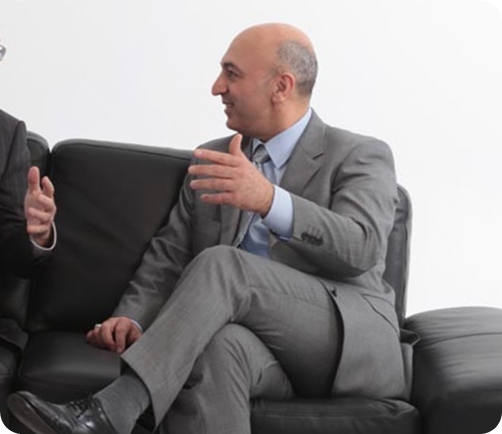 One other piece of advice that Air gives for start-ups is to seek support from experienced advisors early on. "The guidance that I have received from Rouse has been fantastic. We are new to running a business, but our knowledgeable Partner, Majid Sadeghi, reassured us and gave us confidence that we were doing the right thing at every stage."
"Majid and his team have an understanding of our business and have been very supportive. They are also experienced with Quickbooks Online which has significantly helped. Overall, they have stood by us and are playing an important part in the direction My Cookie Dough is heading."
Plans for the future
With additional stores currently being planned across the UK and a franchise model potentially being developed, My Cookie Dough have strong aspirations for growth.
"We want to create a global, iconic brand that is available in every major city in the world", says Air, and with the unique offering, award win and repeat customers the business is already serving, few would disagree.
My Cookie Dough is currently at St. Davids in Cardiff with further stores opening in 2015/16. For further details you can keep up with news and products via their Twitter account @mycookiedough
We would like to thank Air Dvareckas and My Cookie Dough for sharing their story with us and wish them continued success. If you have an interesting story about your business that you would like to share, please contact us to discuss being featured in our next client article.