In April 2017, Rosehill Instruments celebrated their 50th anniversary in business, which also marked 50 years as our client. We took this opportunity to speak with founder Trevor Austin, taking a look back at his incredible story, from humble beginnings and a passion for music, to a thriving family business with customers, locally, nationally and increasingly, internationally.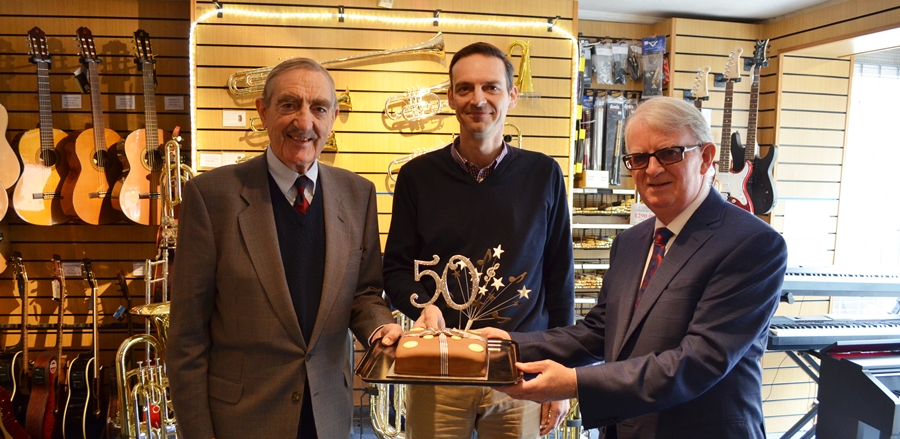 (Left to right): Trevor and Paul Austin (Rosehill Instruments) and Geoffrey Gaffney (Rouse Partners).
Finding his forte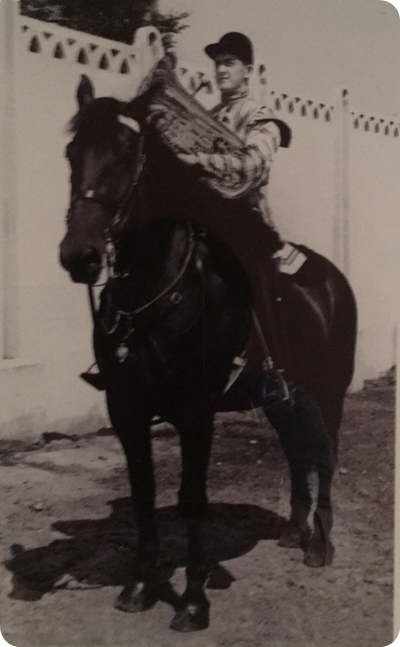 It all began as a hobby for Trevor who in 1948 joined the Royal Horse Guards as a Household Cavalry musician (pictured to the right). At that time he also played with a brass band named Rosehill, a name that he would later revive and continue to this day.
By 1953 Trevor was still an amateur musician and because of the knowledge that he had accumulated over the years, he was frequently being asked for advice by friends and bands on buying instruments and equipment. "I had a network of people who were suppliers and repairers and so I gradually became known for this" says Trevor.
At the time he was also working in the construction industry and studying business, and this is where Trevor's entrepreneurial instinct took over. "I saw an opportunity where people needed my expertise and advice, and access to instruments. I wanted to focus on it full-time, and my late wife said if we pay off the mortgage then we can do it. So, I worked hard and used my pension pot to do just that and then in 1967 formed Rosehill Instruments" said Trevor.
Starting up almost led to treble
Trevor recognised the challenges of starting up in business and to keep costs down in the initial stages he began trading from home. Whilst this prudent decision would help him keep overheads to a minimum, it would not be without its challenges. "As the business started to grow my house was filling with instruments, even up the stairs. It got to the stage when my late wife said 'something has to be done about this'. It was then that I knew I should start looking for our first premises", Trevor fondly remembers.
As fate would have it, during a coffee break at a rehearsal with the Operatic Society, Trevor was talking to a tenor, who it transpired was also an estate agent. "He told me about a building in Beaconsfield Old Town, a former school that had just come back on the market. At the time I remember thinking it was a huge sum of money and during the Margaret Thatcher era we faced high costs on borrowing. Though looking back now, I wouldn't have changed a thing".
Playing his trump-et card
When Trevor opened the doors to his new premises in Beaconsfield for the first time on 10th May 1972 it was an occasion that the local town came together for. This was helped by performances from the Operatic Society, two brass bands and an unveiling carried out by an already well-known customer, the late Roy Castle. "I will always remember Roy blowing his Alpine Horn whilst my colleagues opened the doors with a cord attached to the door handle, I can still hear the music." said Trevor.
Scaling up
The business gradually developed a range of products to appeal to its core customers which included schools, orchestras and the general public. In 1977 it took over the British Bandsman, which had been formed in 1887 making it the oldest weekly music publication in the world and Trevor moved the publishing to an office above the retail premises.
In recent years the business also entered the Military Bands market, setting up a new department that could cater for their specific needs. Also they now count Salvation Army bands as one of their largest clients. They have also expanded their instrument range to include brass and woodwind sales and repairs.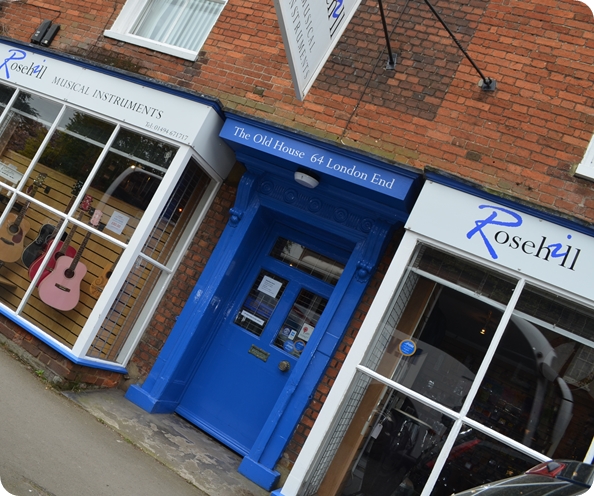 Today, Rosehill Instruments has built a truly international business model, with suppliers from as far away as China and a growing customer base in the US, Australia, New Zealand and Scandinavia amongst others. Trevor comments, "We have long been involved in sourcing products internationally but we learnt which suppliers we can trust to provide high quality instruments and good value for money". This has led to the company becoming one of only 3 brass band shops in the UK.
The business continues to perform well internationally and following the EU referendum and weakening of the pound this has had a positive impact on their exporting efforts. "We have certainly noticed a recent uplift in international business", says Trevor.
A long-standing client bass
An expansion in instruments and knowledge led to other notable clients, not only from the brass instrument world. "We had a man come into the shop looking to buy a bass harmonica. I took a deposit and said I would ring him when it was in. The staff were going mad, saying that it was Barry Gibb. I couldn't understand all the commotion, I wasn't really into my pop music and I hadn't heard of the Bee Gees."
"I would say I've widened my taste in music these days, and Barry still pops into the shop to buy a guitar from time to time and next time he visits I will tell him that story. We can also count big names in the brass world as previous clients of ours including Don Lusher, Kenny Baker and Jack Mackintosh."
Conducting business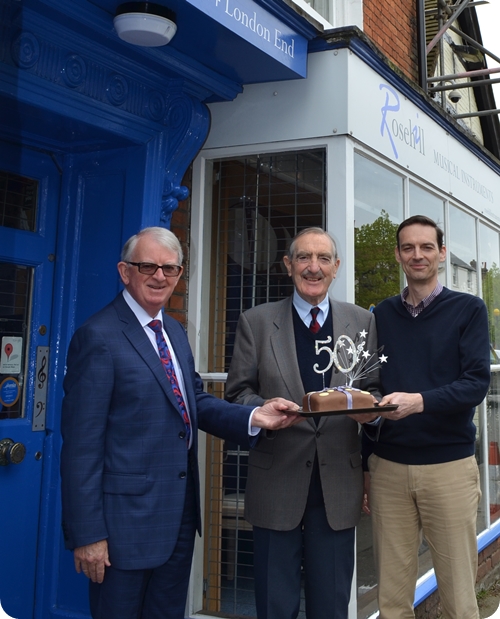 Trevor realised early on that he needed an accountant and business advisor who could assist with the growing demands of the business. Geoffrey Gaffney, a long standing Partner, and now a part-time consultant at Rouse Partners, has supported Trevor and the business for 50 years.
"Geoff was a senior player at the Squash Club and was once kind enough to give my son Mark a lesson. When we needed a proper audit and team of accountants we were pleased that Geoff was our man."
He noted that this became even more necessary as the business grew. At one time we had 10 Companies, and Geoff's guidance was a great help to the Group. Having an accountant alongside us has meant that we can get the necessary advice and assurance whenever we need it", said Trevor.
Geoffrey Gaffney commented, "The 50 year anniversary represents a milestone of working with Trevor and his son Paul on various aspects of the business over the years. It has been a real pleasure to work with them and their devotion to what they do has always been clearly evident."
You can duet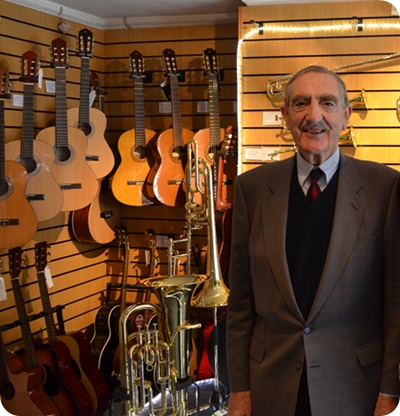 We were keen to ask Trevor for his advice for other business on standing the test of time. "Dedication, enjoy what you are doing and never stop learning. You need to know a bit about running a business and combine that with your passion for the business" says Trevor.
Trevor also mentioned spotting opportunities and just going for them. In particular he notes a time when all brass bands changed from high to low pitch, "many instruments needed an aftermarket repair to be converted to low pitch and we catered for this. At the same time they would often buy other instruments as well, so it was great for business" said Trevor.
It is also striking how Trevor keeps up with trends and what is currently popular with his customers. "At the moment Ukulele's are very popular, and can also be very affordable", says Trevor, and with artists such as Ed Sheeran using them, this trend looks set to grow.
At 86 Trevor believes in staying involved in the running of the business, though he concedes that he doesn't have time anymore to play and travel in a band every week for concerts.
"I aimed to retire at 55 and then I lost my wife in 1993 and just plunged myself into the business. While my son Paul now runs the business, I still come in a couple of times per week. I find it a joy to pass on my experience to the next generation of musicians. I also like to keep up with the changes, for instance we are selling more online via websites such as ebay. Paul plays the guitar and keyboard, which has brought a new dimension to the business" he adds.
With 5 grandchildren and 3 great grandchildren in the waiting we are sure that the business will continue down the Austin family for future generations of musicians to enjoy.
We would like to thank Trevor and Paul Austin for sharing their story and congratulate them on 50 years in business, on behalf of all the team at Rouse Partners.