When you think of the chicken farming and nuclear power industries, you might struggle to imagine a connection between the two. That is unless you are Ross Robotics, who develop robots offering advantages to both sectors, as well as wider industry use.
We spoke to Philip Norman and Kathryn Macdonald from Ross Robotics to hear their story and how Rouse has assisted with advisory services.
The beginning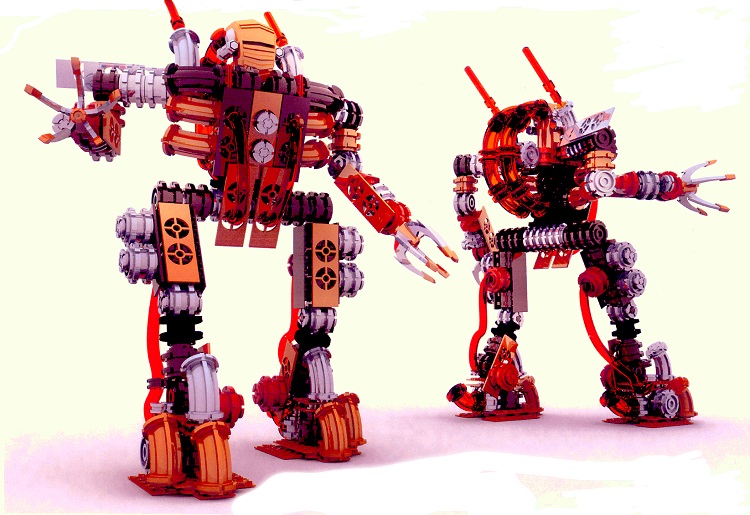 The concept began around 15 years ago in the South of France. Philip, an architect by trade, had a hobby for model building and had created a unique system for creating almost any configuration, including toy models (pictured).
Despite being approached by a toy manufacturer, he spotted a more fitting application for his design, in the form of a modular industrial robot able to outperform those otherwise available.
Philip explained, "Typically, robots are built with single tasks in mind, with permanent tools or sensors installed. But what happens if the need of the client changes, or new technology becomes available? They would become defunct or would be expensive to upgrade. I saw the opportunity for a modular type design, which is easy to adapt and able to perform in various types of terrain."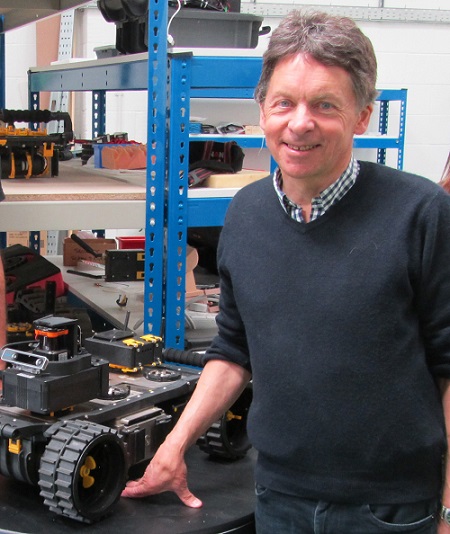 The business was formed in the UK and one challenge for Philip in the early stages was securing funding.
"Without a doubt, I would say that securing the funding was the biggest challenge for us. As is quite typical in the tech world, providing investors with certainty in those early stages was difficult," said Philip.
"Fortunately, we acquired funding through investors coming onboard and also under the government's Innovate scheme, which encourages entrepreneurs through funding innovative technology projects."
"Applications for grant funding inevitably take time in the review stage and we had to be prepared for this. One piece of advice I would pass to others embarking on applications for the first time is to collaborate or piggyback with firms (if possible) who have experience and a track-record in making applications," said Philip.
This collaboration is clearly evident, with Ross Robotics part of Connect-R, Innovate's 2nd largest ever grant funding initiative worth £7 million.
The business
Currently, Ross Robotics provide robots to two very different sectors as Philip explained.
"The first market we focused on was the chicken farming market. We identified this as a growing but sustainable market for the future. Chickens are the most efficient converters of feed into meat of all land-based livestock species and are not associated with any cultural or religious dietary requirements."
"Robots allow us to get in close at the chicken level, without being perceived as predators and gather data on air quality, temperature and conditions. This means we can look at the health and wellbeing of groups and individual chickens, which might not be possible by the human eye."
"The other area we provide robots currently is nuclear decommissioning."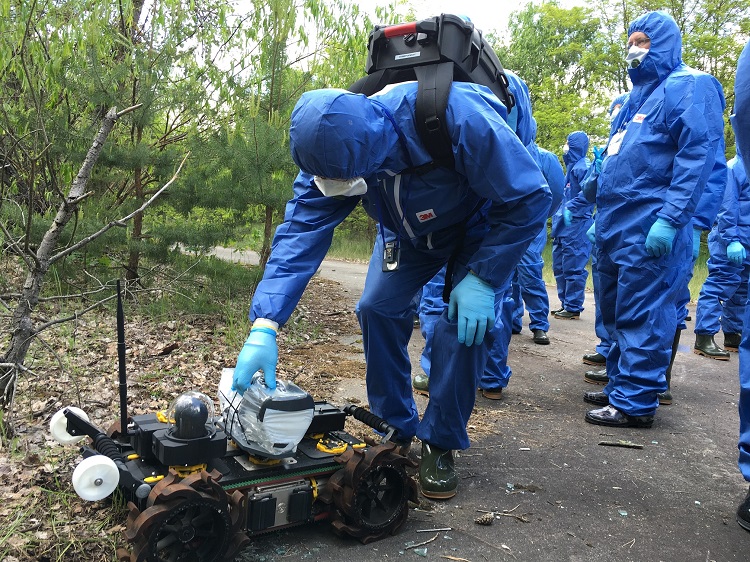 "In this instance, the robots must be able to withstand extreme conditions and heavily irradiated zones. The same modular design lends itself well to this task. If one function should fail it is a simple and fast task to replace, and the cleaning process is also much quicker."
"We were at Chernobyl and the cleaning of our robots after our work was finished took around 20 minutes. We were in the bus and waiting for over 2 hours for other manufacturers' robots to be dismantled, cleaned and rebuilt."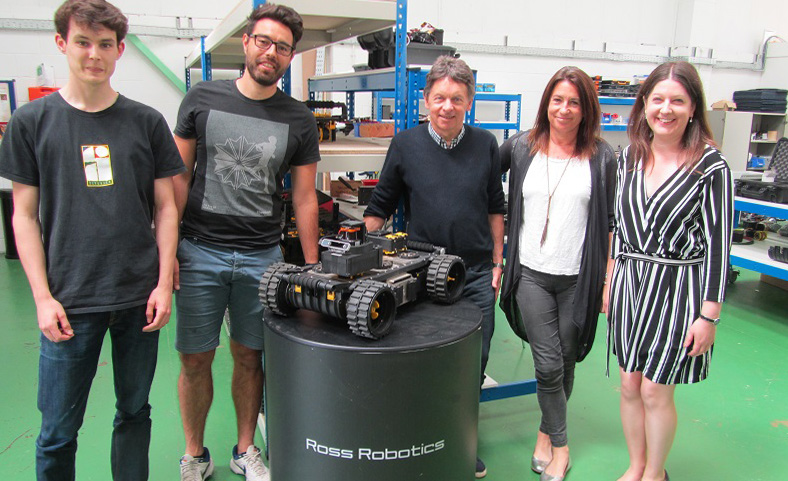 As a UK manufacturer, we were keen to ask about the potential impact that Brexit might have on the business.
"We manufacture most of our parts onsite using 3D printers and equipment, and parts we can't make ourselves are usually sourced from local UK suppliers, so we expect the impact to our supply chain to be very small. Also our clients are mostly based in China and the US, so we don't expect a great deal of change. From a skills perspective, we seek skills from across the globe, and currently we have team members outside of the EU, so again we don't expect too much change."
"Foreign exchange is one area where we may have exposure and we have an advisor helping us to hedge against any adverse movements in the pound," said Philip.
We also wanted to understand how Ross Robotics protects its intellectual property and technology.
"We have 15 international patents to protect various elements of our design, including that original flexible connector design I developed when we started. Of course protecting our innovations is always in my mind, but we haven't had any such issues," added Philip.
Working with Rouse
"We appointed Rouse Partners as we were aware that they are an approved Innovate accountant, and also that they work with other ambitious entrepreneurs and technology companies. Our first meeting with Neil Relph and Emily Colbourne, our client manager, reassured us that we were making the right decision."
"Since then we have been very pleased with the responsiveness of the service provided by Emily and her team. Having someone who understands the grant funding process means that they have been able to guide us, explaining and advising on items, and providing practical solutions to our queries."
"Rouse Partners breadth of experience and service teams means that we can have confidence they are able to offer us additional support and guidance in the future as and when it is needed. For example, we recently received advice on setting up a tax-efficient Enterprise Investment Scheme (EIS) for investors in addition to the regular grant funding work that Rouse has provided," said Philip.
The future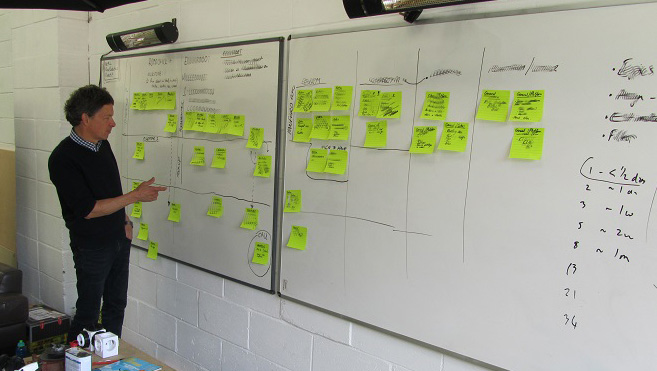 Having already carried out work at Chernobyl, CERN and with links to the team behind the Mars Rover mission, what might the future hold for Ross Robotics?
"We are working on some exciting developments. These include inviting companies and individuals to design new features with our system at the core. Similar to how Apple provides mobile devices but developers create the apps, so watch this space. We are also looking at new industries, such as oil and gas rigs where robots can scale complex structures to service and repair them."
"If you think of the speed of progress and how far technology has come in just 100 years or so, the future for robotics is exciting and looks set to change how we live and work for the better," said Philip.
We would like to thank Philip and Kathryn for their time in talking to us and we look forward to working with them as they take on new challenges at Ross Robotics.
You can find out more about Ross Robotics at their website www.robosynthesis.com.
You can find out more about our services and technology accountants here.