iXBRL tagging service
iXBRL tagging of accounts and tax documents can be a long and tedious task. At Rouse Partners we can release your internal resources by completing this for you.
iXBRL tagging is a way of translating financial information into an electronic format. Each item in your accounts is given an individual tag or code and is displayed in a web page format (HTML), readable to a computer and a human reader. This is then be submitted and processed by central databases at government agencies such as HMRC and Companies House.
Since 1 April 2011 all corporation tax returns for companies, clubs, societies and associations are required to be filed online, with the computation and accounts attachments in the specified iXBRL data standard. HMRC will no longer accept PDF attachments or paper filings.
Our iXBRL tagging service
With over 5000 tags available to select from for some businesses, the process can require the use of specialist software and human intervention.
Businesses are frequently finding that the time and/or cost of converting their accounts to iXBRL format is staggering using their current tax advisers or in-house accounts team, especially if their accounts are produced in Word or Excel format.
In response we have created a dedicated in-house iXBRL team and chose a reputable software supplier to work with to offer businesses a more cost effective alternative.
Our team is highly trained and experienced in iXBRL tagging and can help individual companies as well as large groups of companies to meet their iXBRL tagging obligations.
How our iXBRL tagging service works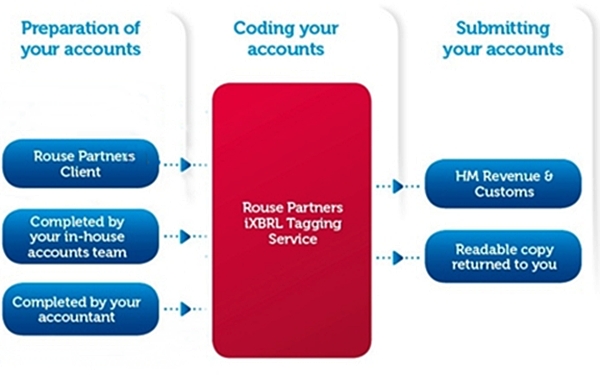 Key reasons to choose our iXBRL service
Delivered by a fully in-house iXBRL team
Quality checked and reviewed by our iXBRL Senior Manager
Timely turnaround and end report provided to you
No need to buy new software or train your staff
Advice on longer term iXBRL compliance
Excellent value for money and highly competitive pricing
Experience in iXBRL tagging for large groups of companies