With under three months to go before London's Ultra Low Emission Zone (ULEZ) launches on 8th April, we are reminding businesses to check their vehicles meet ULEZ standards. Vehicles that do not meet the standard will have to pay a daily charge in order to drive in to London.
What is ULEZ?
The Ultra Low Emission Zone (ULEZ) will replace the T-Charge from 8 April 2019. It will operate 24 hours a day, 7 days a week, every day of the year, within the same area as the current Congestion Charging Zone (CCZ).
If you drive a vehicle that doesn't meet the ULEZ standards within the central London area and the daily charge is not paid, a Penalty Charge Notice (PCN) will be issued to the registered keeper. This penalty is in addition to any Congestion Charge or Low Emission Zone penalties received.
From 25 October 2021 the area will expand to the inner London area bounded by the North and South Circular roads.
Where is the ULEZ?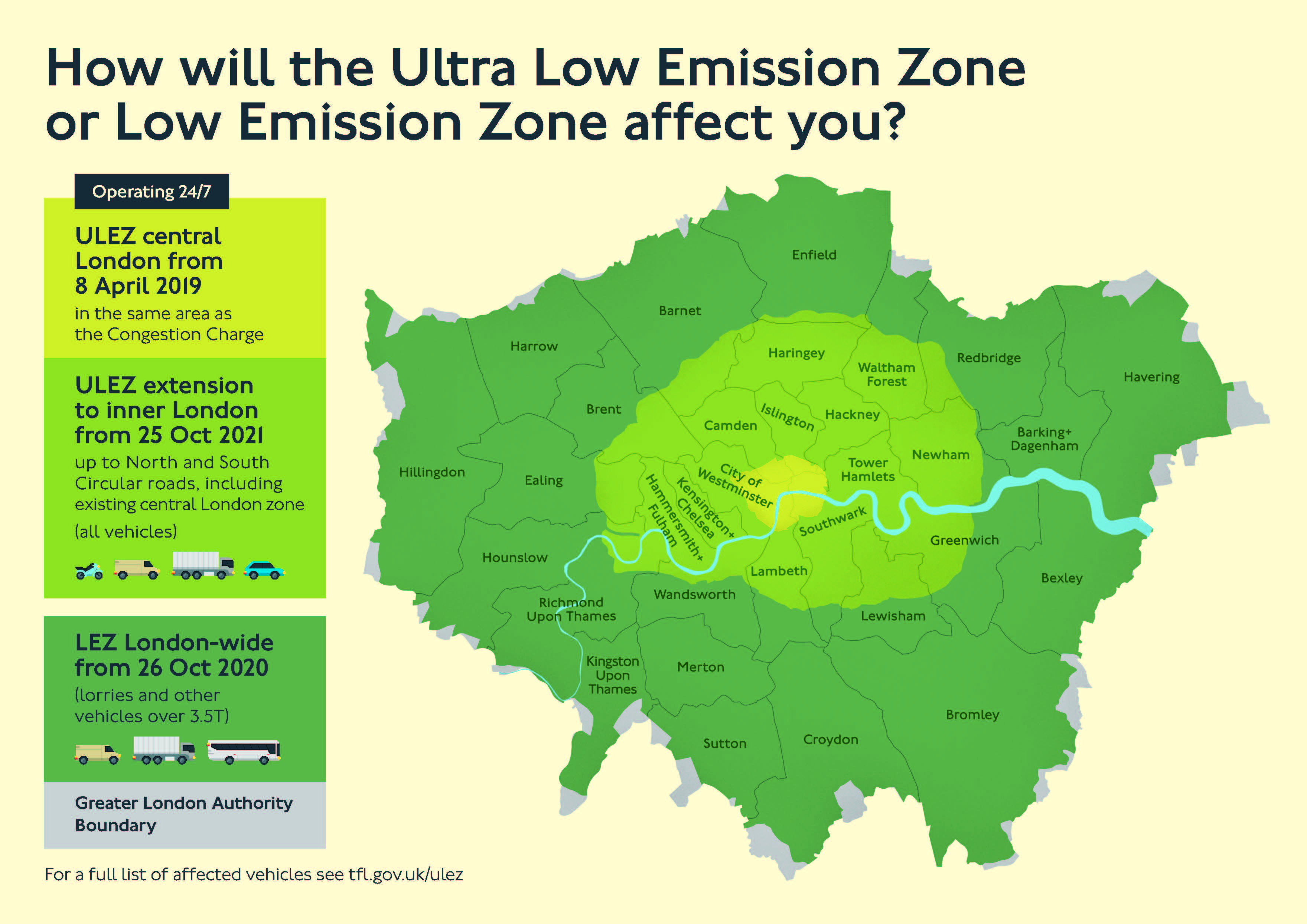 Check your vehicles
You can use the Transport for London tool to check your vehicle/s here.
Looking to buy vehicles that meet these standards?
When purchasing new fleet you should check their engines meet the ULEZ standards below to avoid the daily charges:
Euro 3 for motorcycles, mopeds, motorised tricycles and quadricycles (L category). Euro 3 became mandatory for all new motorcycles in 2007
Euro 4 (NOx) for petrol cars, vans, minibuses and other specialist vehicles. Euro 4 became mandatory for all new cars in 2005 and light vans in 2006
Euro 6 (NOx and PM) for diesel cars, vans and minibuses and other specialist vehicles. Euro 6 became mandatory for all new heavy duty engines for goods vehicles and buses from January 2014, September 2015 for cars and light vans, and September 2016 for larger vans up to and including 3.5 tonnes gross vehicle weight.
Euro VI (NOx and PM) for lorries, buses and coaches and other specialist heavy vehicles (NOx and PM)
View more posts by category











---