This case study covers our work for a new Pizza Hut franchisee, including developing a actionable business plan and advice on growth strategies.
We were first approached by our client after he had been granted the opportunity to pitch to the head office of Pizza Hut UK for a franchise agreement. He wanted to open and run his own Pizza Hut delivery franchise.
The challenge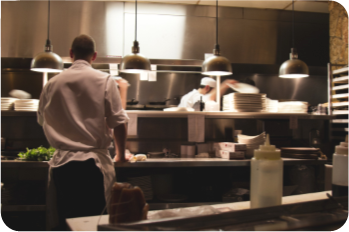 The fast food industry is a fiercely competitive market and franchisors, such as Pizza Hut demand the highest standards from franchisees, who will deliver their products and brand promise to customers. In addition, the current economic climate is making it increasing difficult for new businesses to access sources of finance.
Therefore, each potential franchisee is carefully assessed by Pizza Hut to ensure they will be successful in managing and running the business. As part of this assessment they are required to produce and present a business plan to head office.
Our client was given a full brief on what was expected from his business plan. However, he did not have previous experience in running a business or producing business plans, so he sought guidance from us, as a specialist within the hospitality and leisure industry.
The Rouse approach
Our experience working with many retail and fast food franchisees meant that we were well accustomed to the pitching process and the requirements for success.
Through our discussions we were able to put together a detailed description of his background experience and credentials which reinforced his application to run a fast food franchise.
We then produced financial projections and forecasts, with sensitivity analysis to give confidence that we had considered all possibilities. We also put together a detailed plan and working model showing the proposed structure of shareholders, financing and cashflow forecasts.
Looking to the future, we established a plan for growth including strategic marketing and financing to show Pizza Hut feasibly how our client could progress from one store, to four stores within three years, with performance targets and KPIs at regular intervals.
The outcome
Our client was contacted by Pizza Hut a week after he presented his business plan with the excellent news that he had been successful. He quickly contacted us to thank us for helping him achieve this result.
He commented, "I would like to thank Rouse Partners and in particular Majid Sadeghi for their support and help in putting together my business plan and presentation. It was very thorough and detailed which gave me confidence when presenting and I now have a framework in which I can work to."
He is now waiting for Pizza Hut to confirm the locations for his store, and is discussing our range of business support and compliance services to help get him off the ground running.
We would like to wish him all the success on his new venture and look forward to supporting him at every step along the way.