We are very pleased to have joined the Community Investor Fund, which was launched by The Heart of Bucks to connect businesses with local causes, providing an essential link for the local business community into the non-profit sector.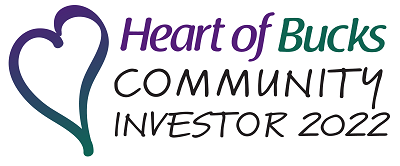 Working collaboratively with local businesses, Heart of Bucks is able to direct much-needed funding to a wide range of local charities, associations and community groups in the fields of health, sport, the environment and education. The funding is awarded to qualifying organisations at intervals throughout the year.
You can find out more about the Heart of Bucks Community Investor Fund and read impact stories at https://heartofbucks.org.

"It's great to be working with Rouse, a fantastic local business with a passion for social responsibility." Mark Bradbury, Trustee, Heart of Bucks

"We are pleased to welcome the team at Rouse to our Community Investor Fund. Thanks to their support, we are able to continue funding important local projects and together make a positive difference in Buckinghamshire." Henry Allmand, CEO, Heart of Bucks

"We are delighted to support The Heart of Bucks on their initiatives to help not-for-profit and voluntary organisations in our area. This has been a difficult time for many of these organisations, who have been working harder than ever to offer support throughout COVID-19. We hope that our contributions help to make a positive social impact and improve lives in our local community" Bindi Palmer, Senior Partner, Rouse Partners
You might also like...
This information has been produced by Rouse Partners LLP for general interest. No responsibility for loss occasioned to any person acting or refraining from action as a result of this information is accepted by Rouse Partners LLP. In all cases appropriate advice should be sought before making a decision.